Can Security Cameras Read License Plates at Night?
Security cameras can read license plate cameras at night, however most of the cameras on the market will not give you a good reading. You will need a specialty camera to really ensure in detail that you will get a good read on the license plate.
Average Pricing for License Plate Cameras
| CAMERA QUALITY | AVERAGE PRICE | DISTANCE |
| --- | --- | --- |
| BASIC MODELS | $500 – $600 | 25 FT OR LESS |
| MID RANGE (BEST VALUE) | $1000 | 50 to 75FT |
| HIGH END | $2500 to $5000 | UP TO 150 FT AWAY |
Basic models of night license plate cameras start in the $500 range. You can probably get a good read on a plate if it is in your driveway or if you have a small business with a small parking lot. The area covered with any quality is going to be around 25 ft. If you get to 35 ft you're going to risk not being able to see the plate or getting a fuzzy or pixelated shot.
A lot of the specialty cameras start out around $1000 if you're looking for good quality. With a mid range lic plate cam you can get good footage of cars going up to 100mph. This works anywhere from 50 to 75ft. This should give you a lot of much needed range if you have a normal size parking lot or you are looking for some variety in your shot selection. Hikvision is a leader in this realm and they make a versatile camera that ends up being the best value if it meets your specific needs.
If you happen to be looking for something a little more high end on the license plate security camera sphere there are options, but they get expensive a lot faster than the more lower end models. To see just a little bit farther the price multiplies. You can pay as little as $2500 or up to $5000 to see around 150 ft.
Day Time Footage
If you are mostly looking for shots in the daytime, you will have a better time in general. Seeing a license plate camera at night time is big leap for the technology. So, remember you will see a big dip in quality at night time.
A Remote Cell Phone View of a Functional Night Time License Plate Camera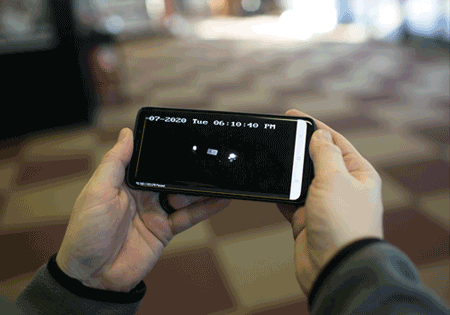 Day Vs Night Example on Mid Range Hikvision License Plate Camera

As you can see this mid range model uses Smart NVR 5200 IVMS pro technology to decipher the footage and not blow out or overexpose the plate at night time.
Various License Plate Software can also

– Scrub a database and and look for matches on a license plate
– Secure parking structures
– Link up to your alarm system
– Track stolen cars or
– Watch over gated entrances
If you have detailed questions on how you can use one of these cameras for your business or industry, please give one of our licensed security system experts a call in Oklahoma City. 405-605-0101